ISOLA Mumbai
Formed In: 2011
Number of Members: 88
Present Term: 2017-2019
Next Election: April 2019
---
News & Current Events
Shodh Workshop Series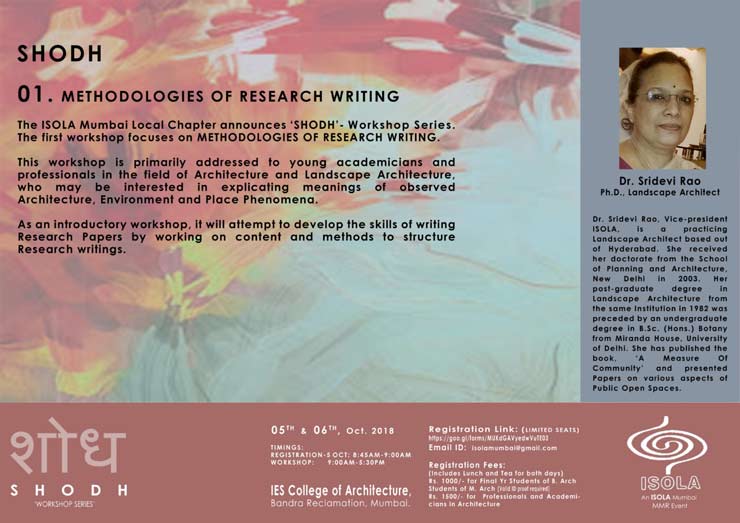 1. Methodologies of Research Writing
Date: 5th & 6th October, 2018
Speaker:
Dr Sridevi Rao
Ph.d, Landscape Architect
Timings:
Registration: – 5th October : 8:45Am – 9:00AM
Workshop:   9:00Am to 5:30PM
Venue:
IES College of Architecture,
Bandra Reclamation, Mumbai
Registration Link: (Limited Seats)
https://goo.gl/forms/MUKdGAVyedwVuTE03
Registration Fees: (includes Lunch & Tea for both days)
Rs 1000/- For Final Yr Students of B. Arch, Students of M .Arch (Valid Id Proof Required)
Rs 1500/- For Professionals & Academicians in Architecture
Charcha Satraa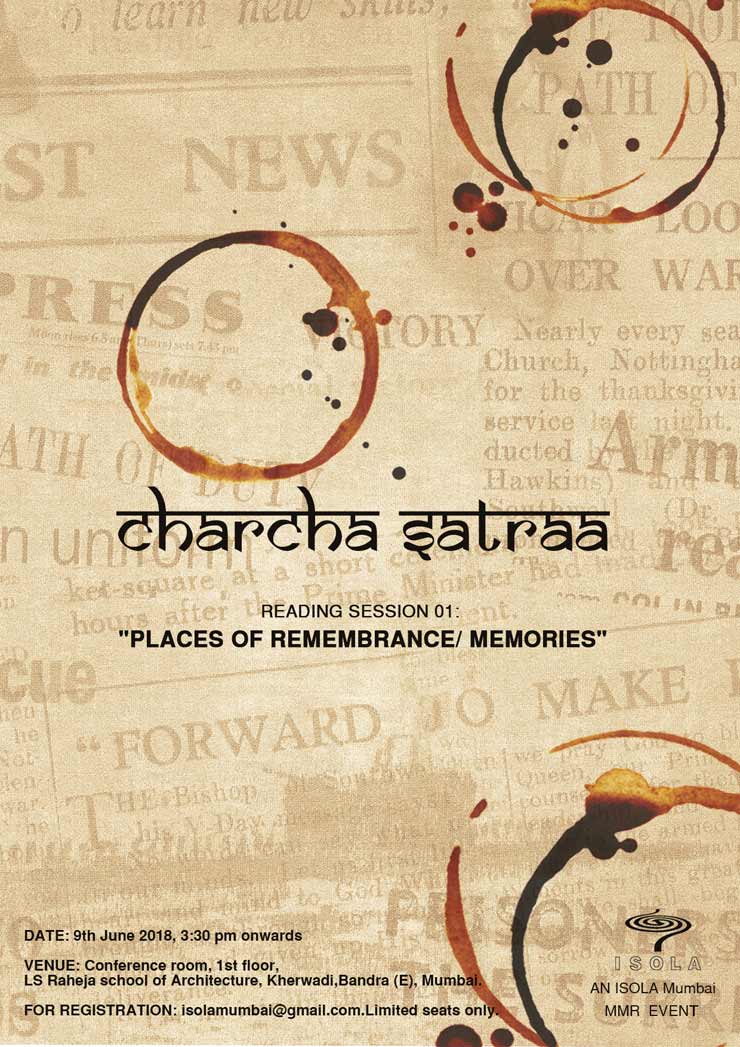 ISOLA Mumbai chapter announces the first ever session of our Reading Circle "CHARCHA SATRAA".
The idea behind this series is to initiate learned dialogues and discussions among the participants regarding various topics related to landscape, architecture, art and allied fields, celebrating the idea of multiplicity of perceptions. With these sessions we hope that all of us would emerge richer in knowledge and would be better equipped for our further forays in the field.
The topic for this session is "Places of Memories/ Rememberance".
The reading session will be held on Saturday 9th June 2018 at The Conference Room, 1st Floor LSR college of Architecture and is open to all.