ISOLA Mumbai
Formed In: 2011
Number of Members: 88
Present Term: 2017-2019
Next Election: April 2019
---
News & Current Events
SD Vaidya Memorial Lecture Series 6th Cycle
Dear all,
We are pleased to invite you to the sixth cycle of  the S D Vaidya Memorial Lecture series  instituted by ISOLA Mumbai (Indian Society of Landscape Architects, Mumbai Chapter) being held at 10:30 am on Saturday, 24th of November 2018 at the Noshir Talati Auditorium,  Rachana Sansad's Academy of Architecture, Prabhadevi, Mumbai.
This event of  the lecture series focuses on the very interesting topic of "FRAGILE LANDSCAPES, VANISHING HABITATS"
Please find attached with this mail the poster invite of the same.
Please find below the link for registering for the event.
https://goo.gl/forms/hTw9yJm70cRF0W7L2
The lecture series  is a public event and open to all .We would also request you to spread the word !
Looking forward to your attendance at the event and a great interactive session!
Shodh Workshop Series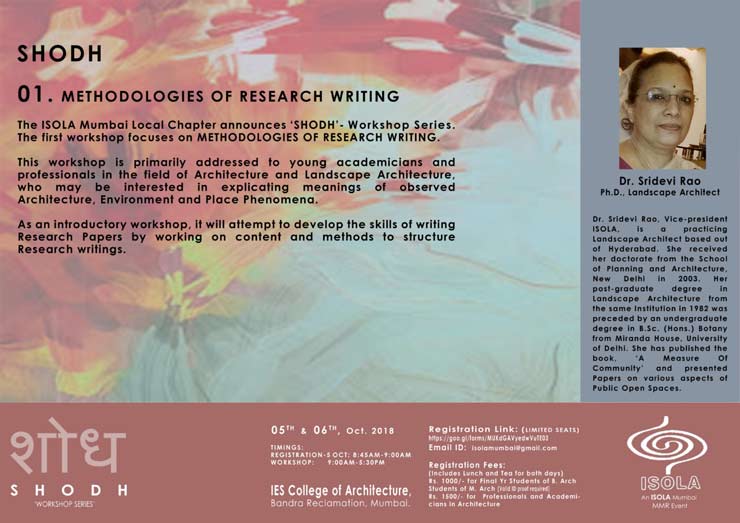 1. Methodologies of Research Writing
Date: 5th & 6th October, 2018
Speaker:
Dr Sridevi Rao
Ph.d, Landscape Architect
Timings:
Registration: – 5th October : 8:45Am – 9:00AM
Workshop:   9:00Am to 5:30PM
Venue:
IES College of Architecture,
Bandra Reclamation, Mumbai
Registration Link: (Limited Seats)
https://goo.gl/forms/MUKdGAVyedwVuTE03
Registration Fees: (includes Lunch & Tea for both days)
Rs 1000/- For Final Yr Students of B. Arch, Students of M .Arch (Valid Id Proof Required)
Rs 1500/- For Professionals & Academicians in Architecture