ISOLA Bangalore
Formed In: 2009
Number of Members: 37
Present Term: 2017-2019
Next Election: March 2019
---
News & Current Events
Fourth Event @ ISOLA BANGALORE EVENT 2019-2021
Dear Isola Members,
DAY-01
ISOLA Bangalore Chapter conducted an event on 30th Nov 2019, Exchanges and Interactions where works of eight up-coming landscape architects presented their works in an informal set-up. The event continued into discussions on the presented works.
DAY-02
ISOLA Bangalore Chapter along with Basant Betons had arranged a Factory visit to the production unit of Basant Betons in Harohalli in the outskirts of Bangalore. The process of making products available for hardscapes were explained and the options that we can work with to get required colours, patters and combinations was explored.
Thesis Open Day V. 4.0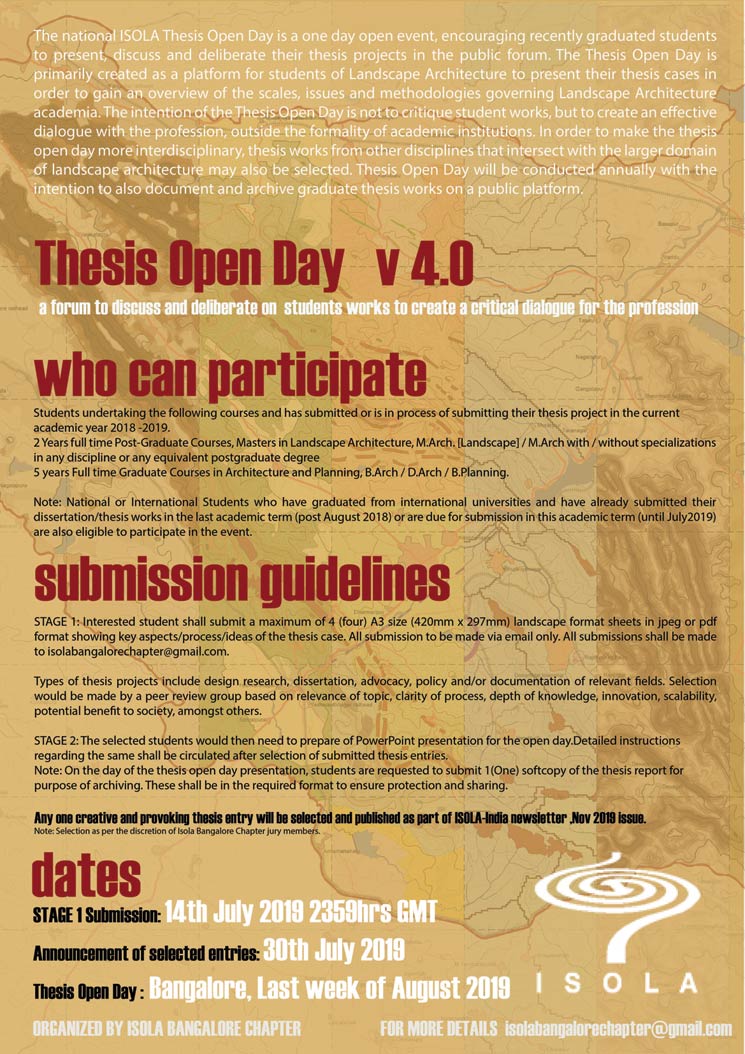 The Thesis open day v 4.0 was conducted on 31st August 2019, by ISOLA Bangalore chapter with BMS College of Architecture, Bull Temple Road as Institutional Partners. Like our previous versions of TOD, This year too, we got a very good response from various Colleges across the Country. We had around 30 entries from which 10 were selected for presentation under three panels, namely: Natural Landscapes, Cultural Landscape and Urban Landscapes. The deliberations during panel discussions brought about interesting issues like non-human-centric designs in natural bird habitats to role of Landscape architect in politically upheld scenario in Urban landscapes.
Date : August 31st , 2019
Location: B.M. SREENEEVASAIH AUDITORIUM, Bangalore
A WALK IN THE VALLEY SCHOOL
ISOLA Bangalore organised a Valley school nature walk conducted by the team Ecoedu. The 3 hr walk explored the rich biodiversity of the forest  comprising of the jungle vegetation and the diverse varieties of birds, butterflies and insects.
Kudos to the participants, organisers and the team- Ulhas Anand  and T.S. Srinivasa, in making it an engaging and eventful session
Date : June 22nd, 2019
Location: Valley School, Bangalore